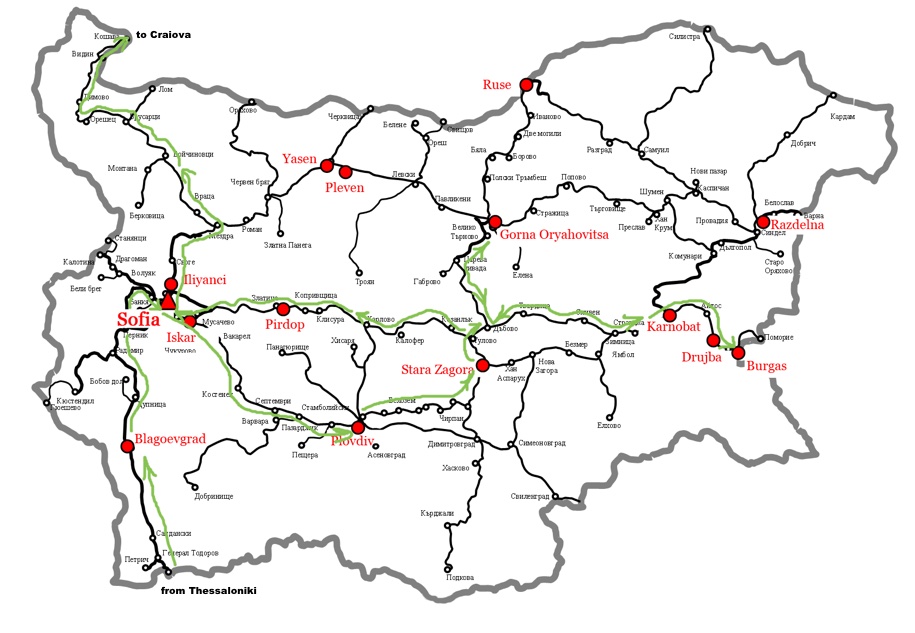 Between Saturday 20th June 2015 and Monday 29th June 2015 I crossed Bulgaria by train . This blog entry summarises my experiences, with the aim of assisting fellow travellers who might attempt similar trips. The map above shows my route, and the information is correct as of June 2015 – do comment below if you know if anything has changed!
Summary

Bulgarian railways are old style, and generally rather slow. Modern railway comforts – like air conditioning or restaurant cars – are very seldom to be found. However if you want to see the landscape of the country, meet fascinating people, and feel the wind in your hair through an open window, and all of this on a shoestring budget, then a trip on Bulgarian railways is worth considering. Indeed considering the low ticket prices, and the very old rolling stock, BDZ / БДЖ (Bulgarian State Railways) actually works comparatively well!
Top tips
Bring your own loo roll, soap and water – most of the toliets on BDZ trains lack these. Also bring your own food – no catering is provided (except on the international services – see below), although sometimes stops are long enough to change locomotive to allow you to go to a café. While some internet tickets are now available for some routes, I bought all tickets with cash at the departure station – I could not buy a Plovdiv – Veliko Tarnovo ticket in Sofia for instance. Booking tickets for subsequent days does work – more details below. Few audio announcements are made in trains or at stations, so a basic grasp of the cyrillic alphabet helps – most trains have signs indicating the start and end stations next to the doors (see pic). This can be cross-referenced with the timetable information from DB's Reiseauskunft that contains the times of all Bulgarian trains as far as I can tell.
Trip 1 – Thessaloniki (Θεσσαλονίκη) – Sofia (София)
Saturday 20.6.15. D. 0655, A. 1600 approx (almost 3 hours late – timetabled 1420).
International train 360 <- note NOT listed in DB's timetable!
Cost: €16.80, single, plus €1 for a seat reservation.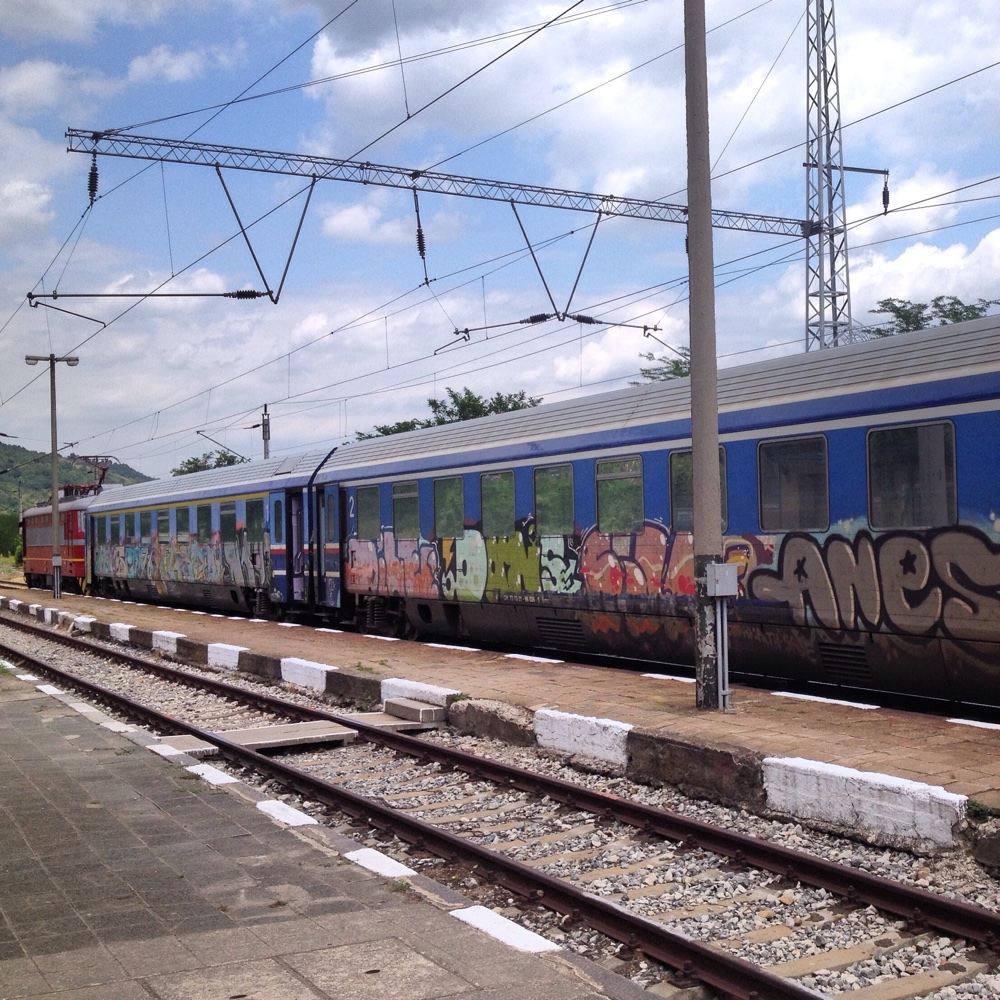 This was the only train not booked through BDZ, but instead through Train OSE, the Greek railways (Train OSE international services page here). Paper tickets are issued at Thessaloniki station – there are no online tickets, and no savings made by booking ahead for single tickets (there's a small saving for return tickets booked ahead). Two new, air conditioned but graffiti-covered carriages – a second class open car, and a first class compartment car – bound for Sofia are part of an internal Greek Thessaloniki-Alexandropouli service as far as Strimon (the border station) – ask staff at the station to make sure you are in the correct carriages. There is also a dining car as far as Strimon, but none thereafter. For some reason my seat was in the first class carriage, despite having a second class ticket – the guard didn't quibble.
This was the only service I took that encountered a major delay. An accident at a level crossing north of Blagoevgrad (Благоевград) blocked both the railway line and the main road, and a rail replacement bus was laid on swiftly by BDZ to get us around the problem – along narrow mountain roads! – and then onto a waiting train at the next stop. If I had been travelling by bus I would equally have been delayed.
Trip 2 – Sofia (София) – Plovdiv (Пловдив)
Monday 22.6.15. D. 1035, A. 1340 (few minutes of delay)
Regional train R 8601 Sofia – Kalojanovec (Калояновец)
Cost: 9 Lev (€4.57)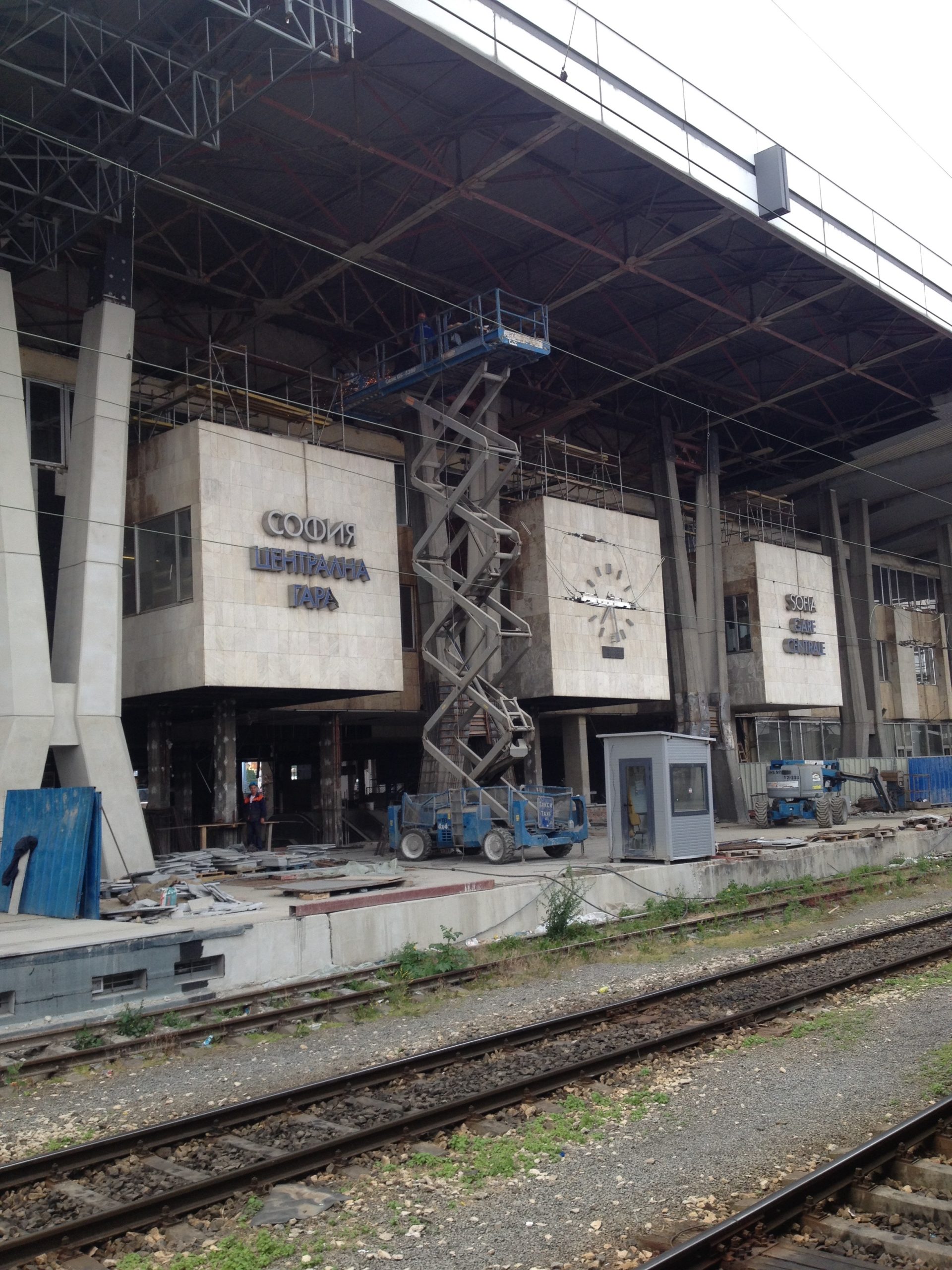 Ticket purchasd at Sofia station a few minutes ahead of boarding the train. Train was composed of 1990s-style ex-DB German railways RegionalExpress carriages. The main parts of the carriages were OK, but stank rather badly of dirty loos, but fully open windows helped a bit! Scenery consists mostly of wooded hills for the first half of the trip, then agricultural plains. The least exciting and least eventful journey of the whole week.
Trip 3 – Plovdiv – Veliko Tarnovo (Велико Търново)
Tuesday 23.6.15. D. 1420, A. 1914 (on time)
Regional train R 4652 Plovdiv – Ruse (Русе)
Cost: 12.20 Lev (€6.19)
Ticket purchased the previous day at Plovdiv station. Seek out the old and comfortable East German (Deutsche Reichsbahn – DR) compartment car on this service, rather than the open plan old DB RegionalExpress carriages. Scenery changes throughout the trip – rolling hills with fields give way to high mountains and gorges after Dabovo (Дъбово), and then passes through small villages in the valley approaching Veliko Tarnovo. Note that the station in Veliko Tarnovo is 2km from the old town – take a taxi to get to the old town (approx 3.50 Lev)
Trip 4 – Veliko Tarnovo – Burgas (Бургас)
Wednesday 24.6.15. D. 1505, A. approx 2100, almost 1 hour late (timetabled: 2008), changing in Dabovo (Дъбово)
Regional train R 40105 Gorna Oryahovitsa (Горна Оряховица) – Stara Zagora (Стара Загора), then R 3623 Sofia – Burgas
Cost: 13.30 Lev (€6.75)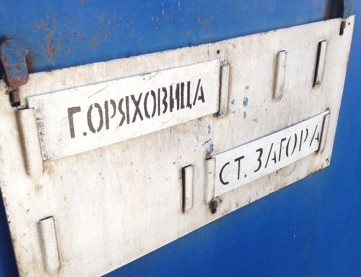 Ticket purchased the previous day at Veliko Tarnovo station. R 40105 was the worst train in the whole trip – very old and worn carriages with plastic covered bench seats in the compartments. A passenger was taken ill en route, and the train reached Dabovo with an hour of delay, but R 3623 was held there for connecting passengers. Dabovo – Burgas was in renovated compartment carriages that even had plugs to charge mobiles. A student who spoke perfect English helped explain the problems with the ill passenger – if in doubt try to ask people in Bulgarian trains, and you will find someone who speaks some English or German, and even if they do not the reaction I received was almost universally positive and friendly. The sun setting on the cereal fields of eastern Bulgaria between Karnobat (Карнобат) and Burgas was one of the sights of the trip.
Trip 5 – Burgas – Sofia – Budapest
Monday 29.6.15, D. 0525, A. Sofia 1130 (on time). D. 1155, then arriving in Budapest at 0815 the following day
InterCity IC 3602 Burgas – Sofia, and international train 480 Sofia – Budapest
Cost: 30.00 Lev (€15.23) for Burgas – Sofia, and 136.90 Lev (€69.51) for Sofia – Budapest, inc. couchette reservation
InterCity trains in Bulgaria are compulsory reservation – the ticket for IC 3602 was bought 3 days ahead of departure at Burgas station. This train is like a slightly faster regional service – clean but old former East German carriages, and the route was via Karlovo (Карлово) through the hills of the middle of Bulgaria.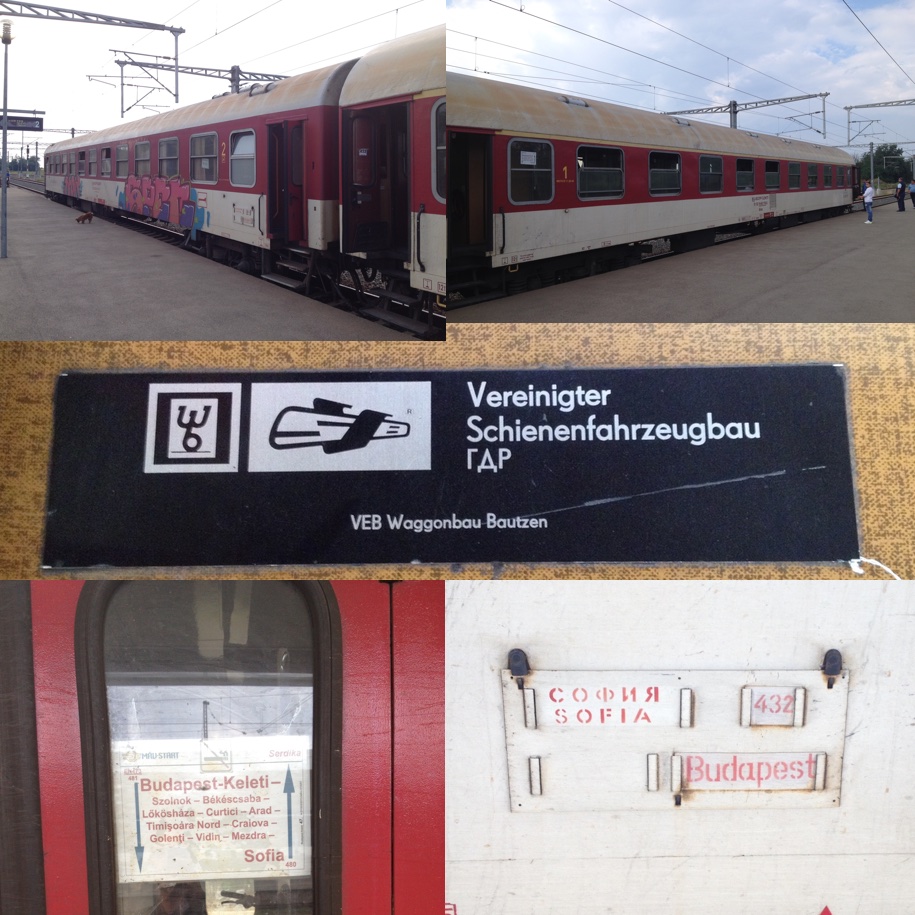 The ticket for train 480 was also purchased from the international desk at Burgas that is staffed by a charming lady who speaks excellent German. Indeed getting a ticket for the 480 is complicated – theoretically it is bookable a month ahead, but staff at Sofia station refused to sell me a ticket for it on 22.6.15 for a 29.6.15 departure. The service itself is in a very old and worn out ex-East German couchette car and an even older compartment carriage, both of which are grimy outside but reasonably clean inside. Coffee, soft drinks and beer are available from the couchette attendant who also speaks decent German but little English. A strong lock is provided to secure the compartment overnight and – contrary to what the DB timetable says – the carriages do go as far as Budapest, and there is no need to change in Curtici. Train 480 is a mighty slow and inefficient train, featuring 6 different locomotives, 2 changes of direction, and a long shunting manoeuvre at Vidin before the border crossing into Romania. The scenery for the first two hours out of Sofia – along a deep river valley – is the best part of the trip.
Other photos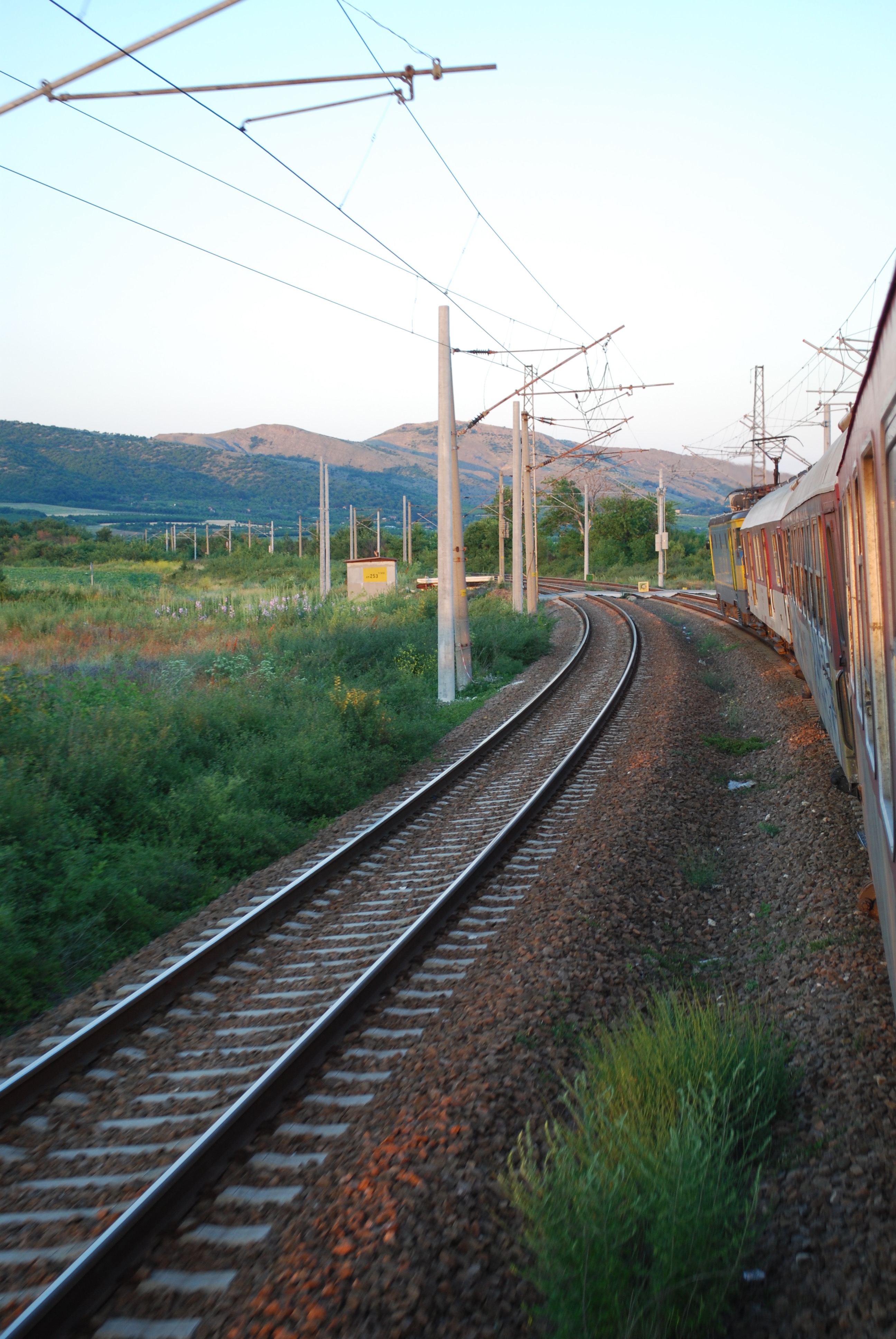 Approaching Burgas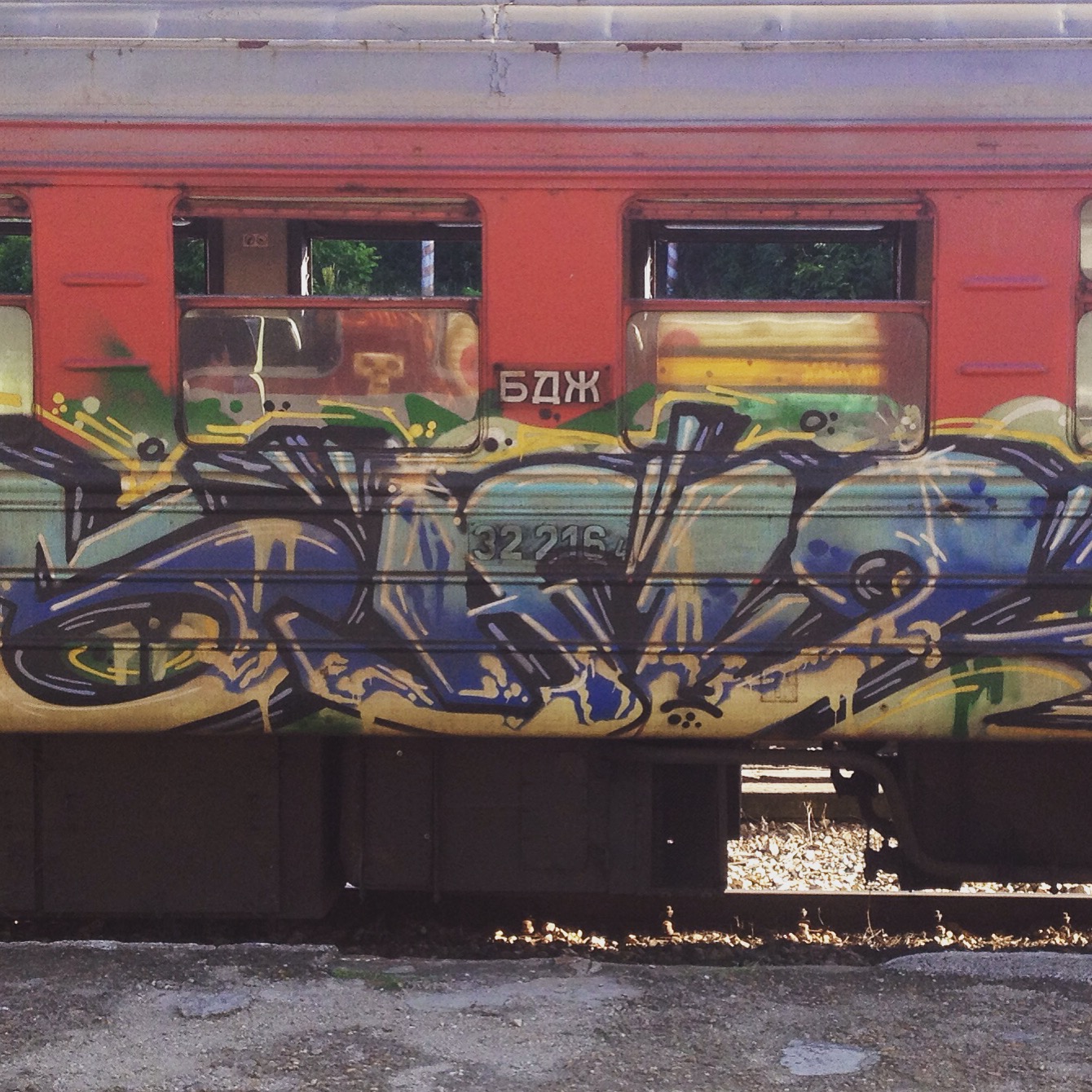 Russian-manufactured EMU on a regional service – interesting paintwork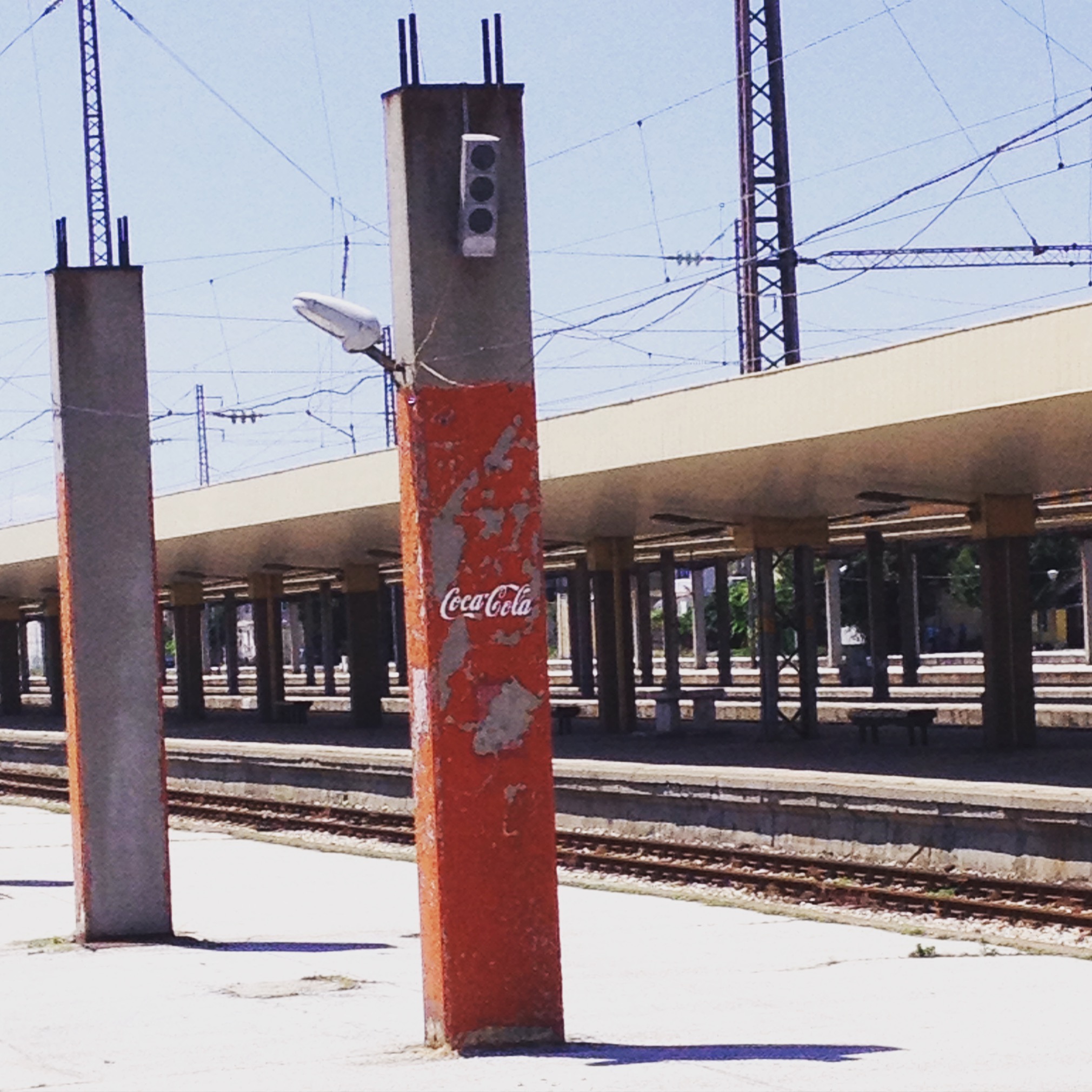 Ads for Coca-Cola at Plovdiv.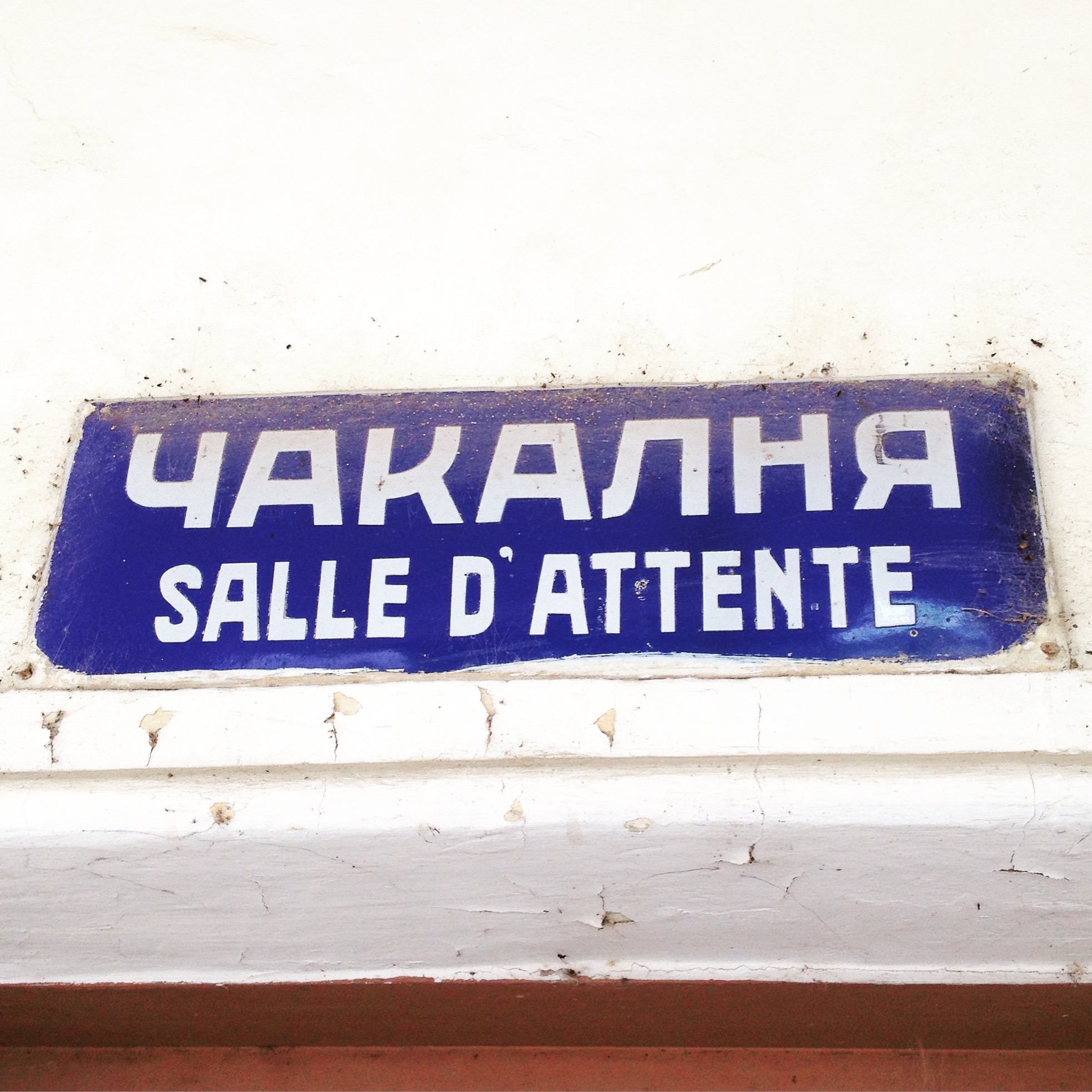 Older station signs also translated into French…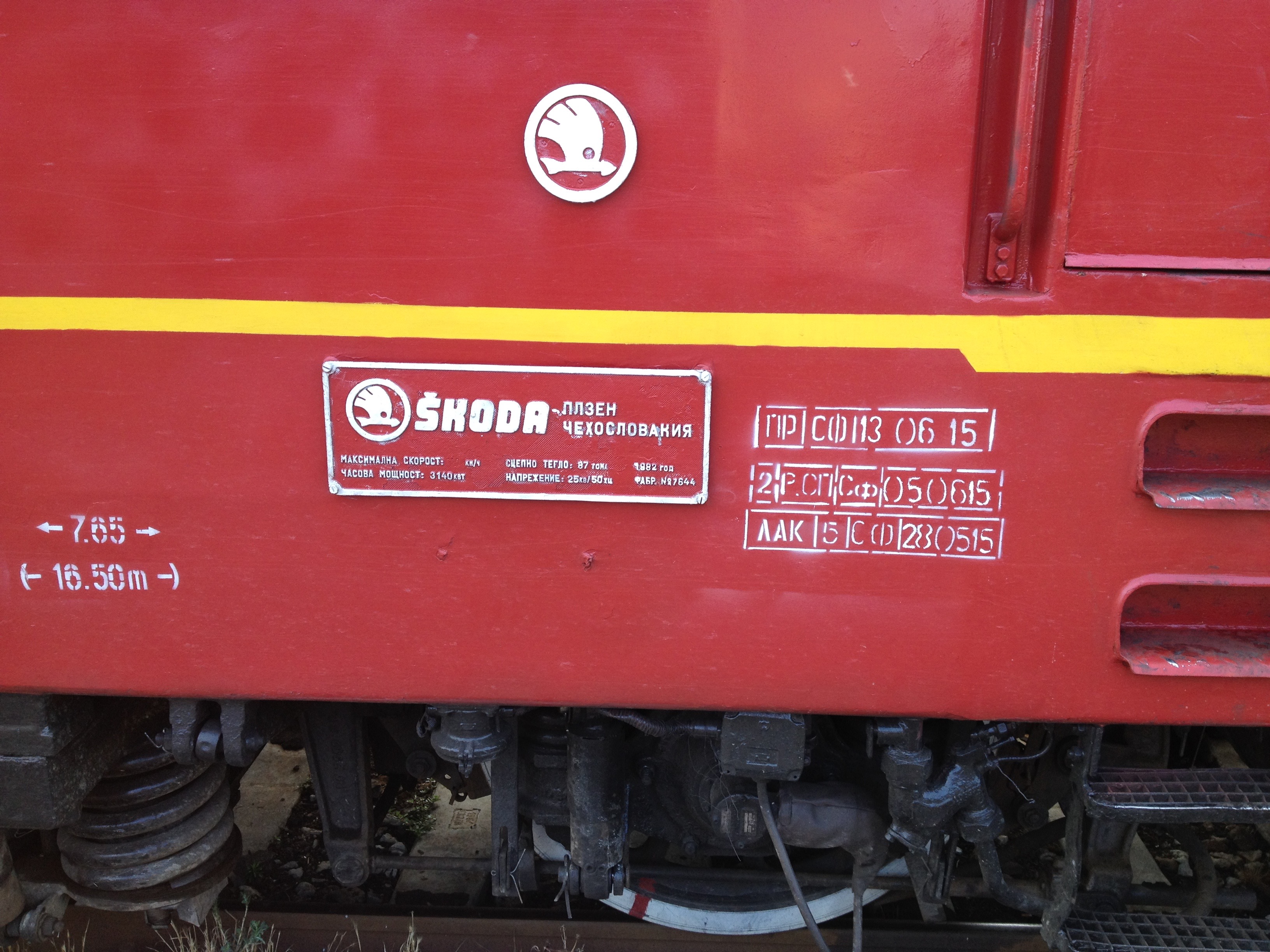 1980s Skoda motive power