So far one EU country with a railway has been missing from my #CrossBorderRail project – Ireland. Because it only has a railway border to a non-EU Member State.
But this autumn I am finally putting that right! Ireland and France aim to make it possible to travel between the two countries, but the practicalities are far from simple. So I will be travelling from Brussels through France to Roscoff in Brittany, and then onto the ferry to Cork, with MEP Ciarán Cuffe from the Green Party (Ireland) – to document all of this. There will be events in Cork and Dublin, and I will also go to investigate the Ireland – Northern Ireland border, and ideas to re-activate a line between Strabane and Letterkenny (as mentioned in the All-Island Strategic Rail Review). I will depart from Rosslare on the ferry to Fishguard.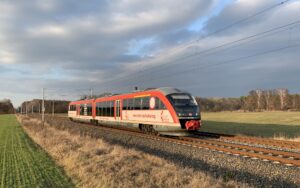 Later in September I will go and examine a number of borders Netherlands-Belgium, Poland-Czechia, Czechia-Slovakia and Austria-Slovakia I have not yet visited, and will even give a speech on board the Kulturzug between Berlin and Wrocław on 30th September. I will also be speaking at a variety of different events in Salzburg, Winterswijk and Wien, with more events in planning.
Then to complete the travels for the autumn I am making a massive journey all the way to Santiago de Compostela for the Interreg Annual Event. But simply going there would be rather dull, so I am taking the chance to investigate some more cross border railways en route.
All the details of the route, timetables, borders to be crossed, maps and events are on the #CrossBorderRail site here.
There has also been some press coverage of my cross border rail work, most notably in Spain and Austria.
El Periódico featured two pieces – about why Spain's rail borders are so bad, and about my project – and these featured also in the printed newspaper. There are versions in Catalan as well – about the borders, and the profile.
I spoke to ORF at length about the headaches of cross border rail ticketing, and some of this was then also picked up by Der Standard.
And last but not least my projects for this autumn were featured in Politico Playbook (you have to scroll down a bit – they don't do anchors in the HTML it seems).