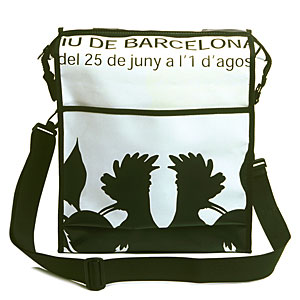 I've just spent a week in Berlin where plenty of people had Freitag bags – made by a firm in Zürich from recycled tarpaulin and other things. The firm started by making bags for cycle couriers, but those are no good really for commuters – I need a pannier bag that can double as a work and laptop bag. Sandqvist in Sweden also do not offer anything, and I own one of their satchels. The solution? Internet searches have come up with Demano – a firm in Barcelona that makes bags from cultural banners. The picture shown, called Ciutadella, is a cycle pannier made from re-used banners from cultural events – looks really cool. I'll order one this autumn to replace my rather unstylish Carradice cycle bag – I have to arrive at my web meetings looking reasonably respectable after all!
[UPDATE]
Demano have not replied to my e-mail, and their online store is not working. So what other options are there for panniers? Essentially it's only that I want – I don't want to arrive at meetings with a sweaty back. So here are a few more options…
Altura Urban Briefcase 17 – £60
Altura Urban Briefcase 15 – £50
Deuter Essential Bike – £55
Ortlieb Single Office Bag – £70
Ortlieb Hard Shell Office Bag – £118
J&D Commuter Briefcase Pannier – $100
Metro Trunk Case – $70
Arkel Commuter Bag – $149
Rixen & Kaul Klickfix Office Schwarz €100 (more here)
Vaude Freiburg – €69
Vaude Münster – €60
Of these the Metro Trunk Case looks the better bet. Bit dull in comparison to the Demano one above, but might be OK – if I can get one in the UK…
[UPDATE 2]
I've now been informed by Demano that their pannier bags are not being produced currently. 🙁 I've also found some more bike bags – from Creek2Peak and Agu – see this link. I still can't find anything really good though.
[UPDATE 3]
This damned search! Once I've started to embark on something like this I never stop. What about the Dutch I thought. They are stylish and cycle a lot. So in went 'Fietstassen' in a google.nl search, and I came across this blog entry about 'Fashionable Fietstassen'. Via that site, I've now – I think – discovered what I want. Basil Cycle Bags, made in Netherlands, are stylish and also a decent price. Their Preston Officebag, a stylish satchel-pannier, is €44.95 in Holland, and the only stock I can find in the UK is £60! So much for the European single market. Reckon I'll just wait until I live in Belgium and order it from TrendyStores.
[UPDATE 4]
Basil did prove to be the solution – see this post.
[UPDATE 5]
For more discussions about all things bike related try MeAndMyBicycle – I'm sure they have even more options for stylish panniers.