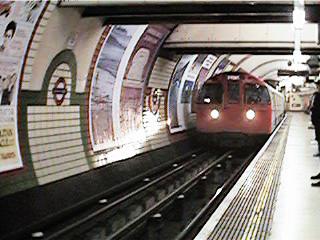 I'm not cycling today – the lock is stuck and hence my bike is resolutely attached to a drain pipe behind my flat in Walworth. So – for the first time for ages – I took the Underground to work. While the Bakerloo and District lines were working fine and were not overcrowded (meaning I avoided the stress of being crammed against the window), one additional dynamic struck me: life on the London Underground is a large, very specific, sub-part of life in London in general.
Those millions of people that take the Underground every day are subjected to a unique combination of social interation and advertising exposure that the rest of us can almost entirely avoid. The vast majority of readers of Metro are travellers on the Underground. Some advertising campaigns are shown almost uniquely there – I've not been assaulted by Virgin Money ads anywhere else as I was this morning on the Bakerloo line. The clientele on those hundreds of trains coursing below London's streets is unique too – an almost total absence of children, the vast majority being individual travellers, smart, sullen and silent.
I don't miss the Underground – far from it. Life without it on an everyday basis is good for heart and mind. But it's somehow more than the transport network than keeps London moving.