A night train? In the Netherlands?
Not the news we had expected to read.
But here is the boss of Arriva Netherlands Anne Hettinga arguing for exactly that in an interview with NRC Handelsblad. The story was likewise covered by Railway Gazette International.
As you might imagine this is not exactly the sort of night train we are advocating at Trains for Europe – what Hettinga proposes is essentially daytime trains, just with seats, running at night – to connect the furthest corners of Netherlands (Groningen and Maastricht) to the Randstad region and specifically to Schiphol Airport. Arriva's plan is to break the long distance train monopoly enjoyed in Netherlands by Nederlandse Spoorwegen (NS).
We're not going to get into the merits or not of the position of NS in Dutch rail, but the view expressed by Hettinga is nevertheless interesting. 'Zonder concurrentie op het spoor dut iedereen in' – 'Where there is no competition everyone dozes off' Hettinga says.
But who owns Arriva? Deutsche Bahn. A company that takes rather a different approach to competition in its own national market, in Germany, than it is trying to do in the Netherlands!
Photos used in this post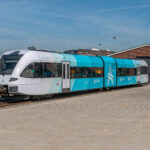 Rob Dammers
Winterswijk Arriva-Noord 231 (Hotze Schuil) nieuwe livrei
May 21, 2020
License: Attribution 2.0 Generic (CC BY 2.0)