Friends know I work on railway policy in Europe, and from time to time they tweet me about the personal difficulties they are having with railway booking. My old friend from Brussels, Anna Drozd, tweeted me today about some headaches she was having trying to find trains between Split in Croatia and Kraków in Poland.
"That shouldn't be too hard!" I thought to myself, knowing that Split is one of the cities best served by night trains this summer. RegioJet is running its service from Prague to Split via Bratislava and Budapest (there's part of the train that goes to Rijeka too, but leave that to one side for now), ÖBB and ZSSK have teamed up to offer a Bratislava to Split train via Vienna and Graz, MÁV is running Budapest to Split night trains, and HŽPP always runs Split – Zagreb night trains.
So let's say Anna wants to depart Split on 24 August.
My normal first check would be on the Deutsche Bahn website that has – for two decades – provided the best timetable data for trains pretty much anywhere in Europe.
But before doing that, a quick check of the alternatives.
ÖBB's Scotty timetable gives me the same results as DB, and even IDOS (the Czech multimodal planner) fares no better. Among the rail booking portals, Trainline and Omio cannot find any train connection for Split to Kraków. NS International does not even know a station called Split. And Rail Europe fairs best, offering the same timetable as Deutsche Bahn…
Anyway, to the timetable searches. DB gives me just 1 of the night trains – the HŽPP Split – Zagreb service, D. 21:40 (the earlier connection is an InterCity to Zagreb, then a EuroNight from there):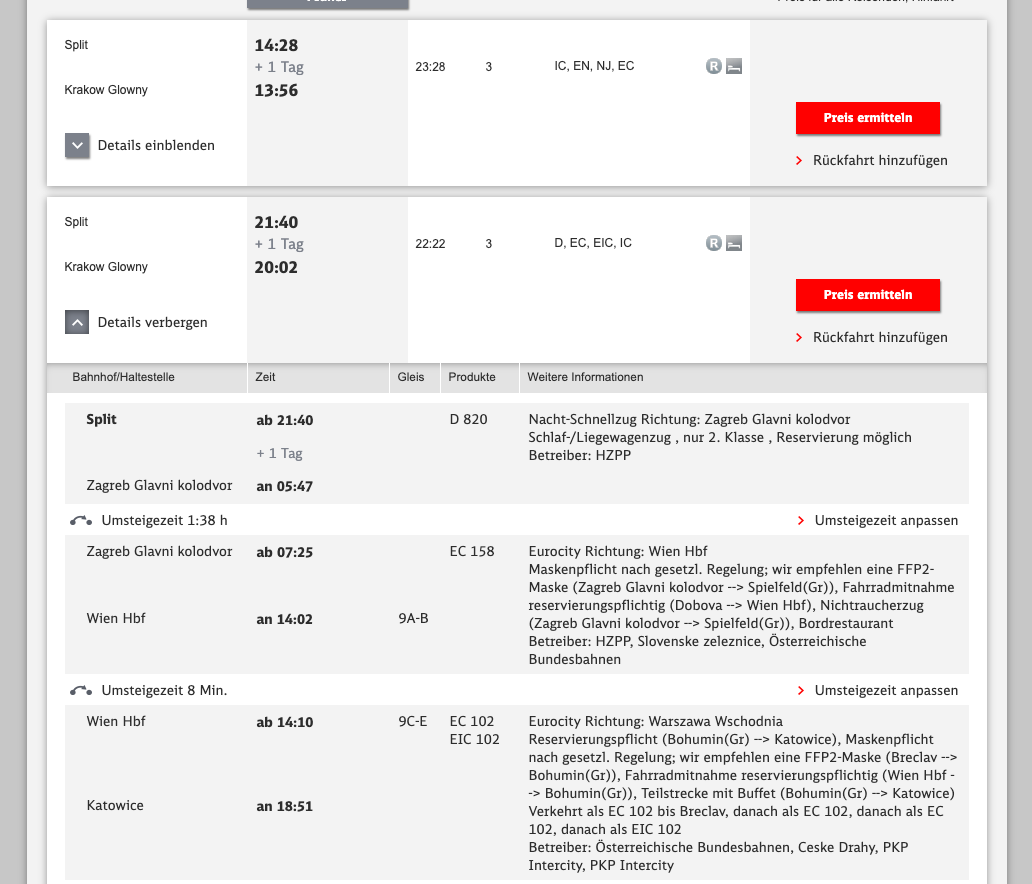 So where are the others?
A quick search of ÖBB's website informs me that the Split – Bratislava service runs only twice a week, and not on the Tuesday 24 August we're trying.
Search for Wednesday 25 August and there it is – with a neat change in Bratislava for Kraków: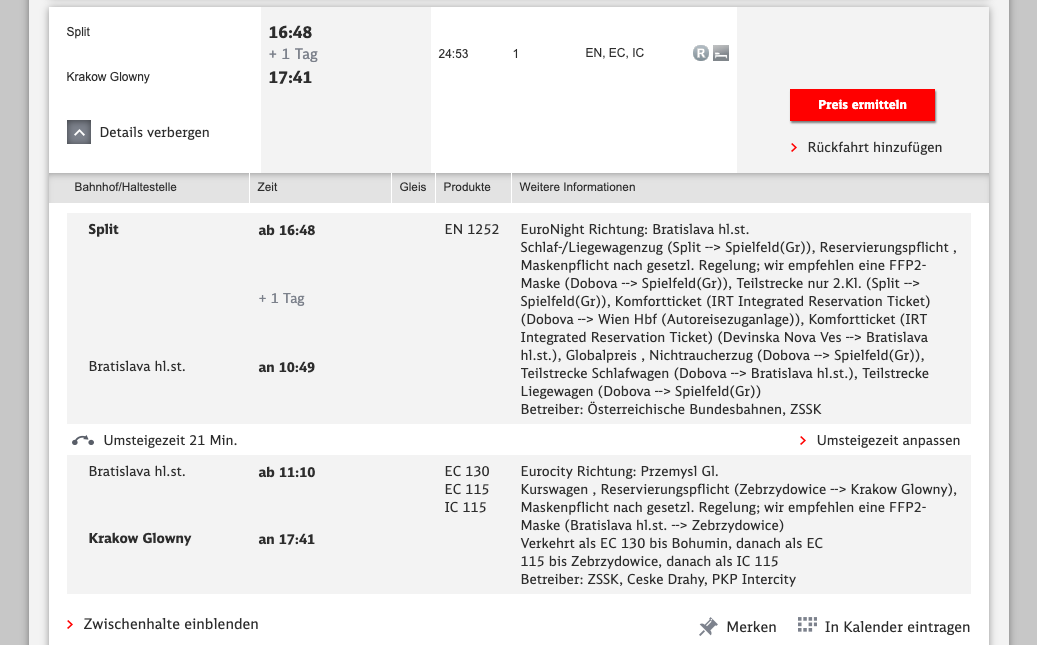 But what about the other two?
The RegioJet train to Split is not listed in IDOS, the Czech multimodal planner, even though RegioJet is a Czech firm.
You can get the RegioJet train details… once you have found the train on the RegioJet Shop site – complete with inaccurate information that implies you go via Rijeka (which you don't) – but at least the Split, Budapest, Bratislava and Břeclav times are right. This one runs daily in August: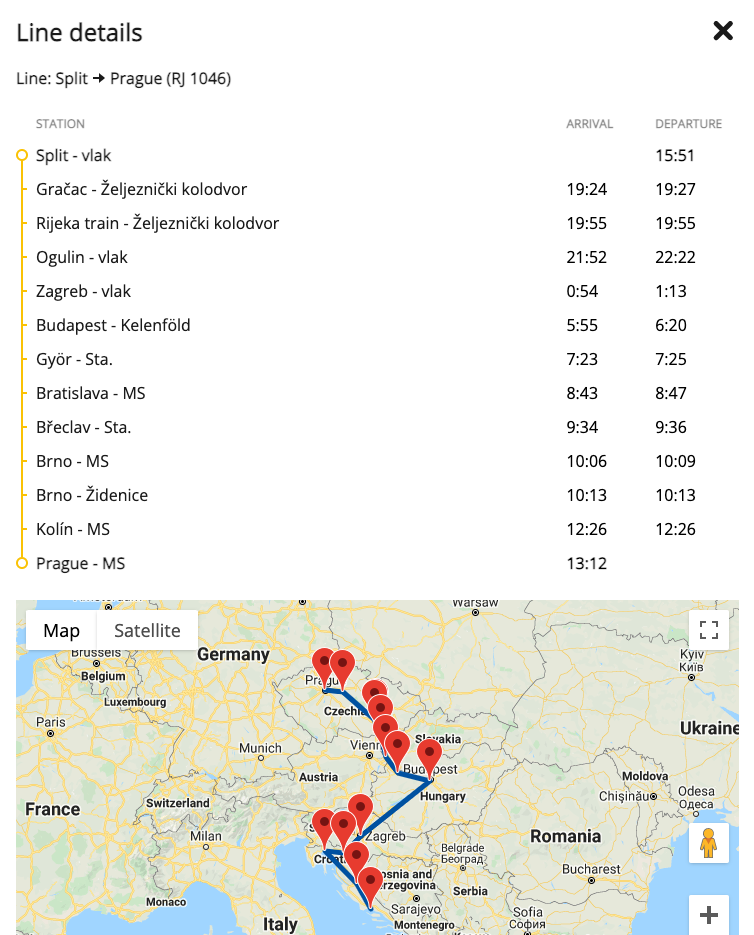 RegioJet doesn't offer me a connection to Kraków though, as RegioJet does not run there – this is the best it can do – with buses, and a week late!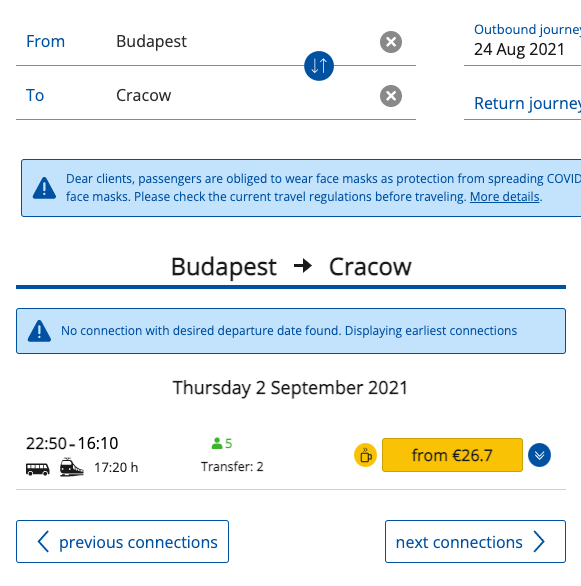 The timetable for the MÁV Budapest – Split service is on MÁV's website – it runs Mondays, Wednesdays and Saturdays: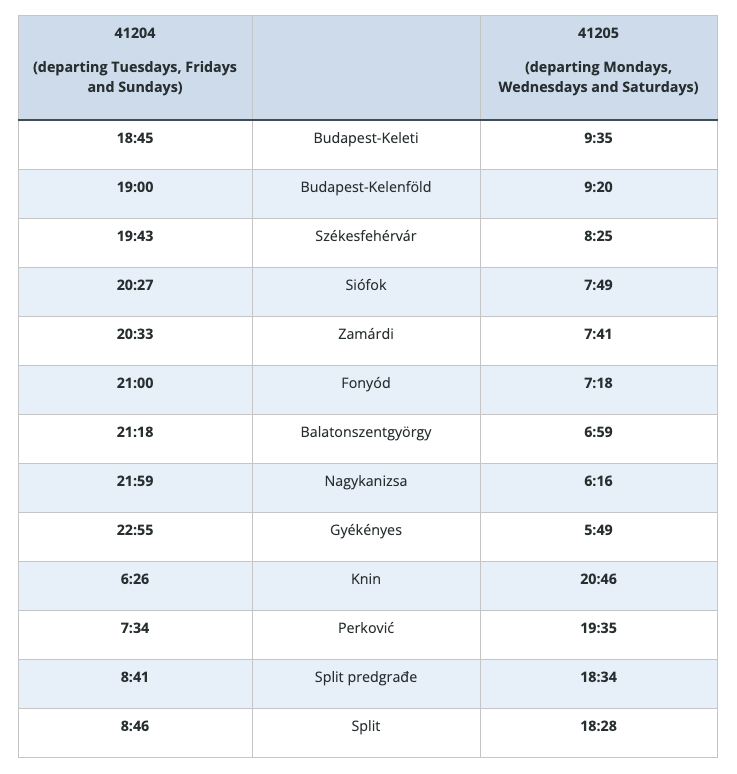 But if you put Split and Kraków into MÁV's timetable search, it gives you an error… either the start or the end of a trip must be in Hungary: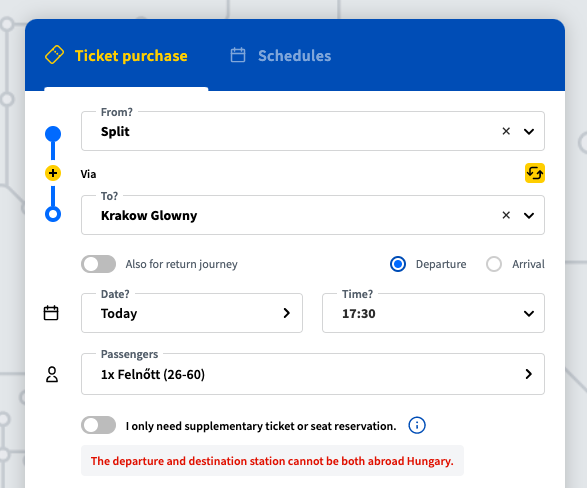 So then how do you do it?
Match up the timetables for each part of the trip.
To connect with the RegioJet service you would have to search Deutsche Bahn for Budapest – Kraków (but conscious that the RegioJet train stops only at Kelenföld, and you might need to transfer to Keleti or Nyugati), Bratislava – Kraków and Břeclav – Kraków (the latter would allow connections with Vienna – Warsaw trains that then go via Ostrava).
This is what you get:

It turns out that the best onward connections with the RegioJet train are in Budapest, Bratislava or Břeclav onto the same service onwards to Poland – I'd make this change in Břeclav rather than in Budapest or Bratislava. The connection with the MÁV train in Budapest is messier – the onward connection with that one needs 2 further changes, in Břeclav and Katowice.
So after all that digging we finally have our timetables!
With RegioJet, departing daily
Split D. 15:51
Břeclav A. 09:34
D. 12:10
Kraków A. 17:41
Trip time: 25 hours 50 minutes
Changes: 1
With MÁV, departing Mondays, Wednesdays, Saturdays
Split D. 18:28
Budapest Kelenföld A. 09:20
Budapest Nyugati D. 11:40
Břeclav A. 15:01
D. 15:10
Katowice A. 18:51
D. 19:06
Kraków A. 20:02
Trip time: 25 hours 34 minutes
Changes: 3 (inc. a transfer across Budapest)
The alternatives – going right back to the start of the post – are:
With HŽPP, daily
Trip time: 22:22
Changes: 3
With ÖBB and ZSSK, Wednesdays and Saturdays
Trip time: 24:53
Changes: 1
And that – if you have got this far – is just to find out the timetables for all the connections. I have not even begun to think of the best way to actually book any of these…
I maintain that if we are to persuade more passengers to take the green option – the train instead of the plane – the very least we need is clear and comparable information about what trains are running. For a holiday trip from southern Poland to the coast of Croatia that is evidently not the case at the moment, as this example shows.