I've just returned from a weekend in Ireland (Giant's Causeway, Enniskillen, Sligo, Belfast). The weekend was excellent, but it did not start well. The 0601 Thameslink / First Capital Connect train from Elephant & Castle to Luton Airport brought down the power lines between Farringdon and Kings Cross. We witnessed it – a loud boomph sound, a bright spark, then eerie silence. 40 minutes later there was no option but to 'de-train' – i.e. all passengers leaving the train through the driver's cab and walking 200m through the tunnel to Kings Cross – pictured.
Inevitably the delay caused meant we missed our flight to Belfast (the first time I've ever missed a flight). I'm sure First Capital Connect cannot avoid things like this happening, but they could have better informed passengers what their contingency plans were. Passengers were still waiting for trains at Kings Cross when we emerged, confused, onto the platform – nothing was going to run for hours from there, but the passengers had no idea.
[UPDATE]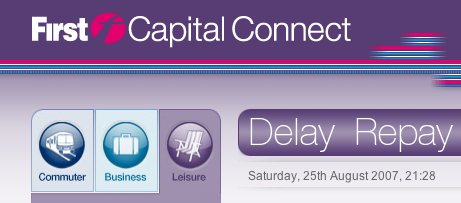 I'm trying to claim back the cost of the rail tickets for this journey that led to the missed flights. First Capital Connect trains clearly run late so often that they have an automated system on their website called Delay Repay. The graphics are quite pleasant, but just like the trains themselves, the system does not work properly! The automated e-mail you are promised never arrives – whatever e-mail address I use. Great. Better resort to pen and paper.